Designing and decorating your home is complicated enough when each room has a specific purpose. But when all those rooms become one, it can be difficult to get a cohesive vibe to flow throughout the space, tying every element from your kitchen to your living room together. Here's how to blend an open kitchen with the rest of your home.
Create a visual display
While a trendy design option, open kitchen shelving is an effective way to marry the two rooms. With open shelves on the kitchen walls, you can curate a display of kitchen items like stoneware dinner plates or ceramic mugs that have the same aesthetic as your living room décor. Think of your kitchen shelving as you would your living room shelving. Combine a blend of knick-knacks and kitchen items to create a comfortable cooking space that feels in harmony with the entire living space.
It features a neutral palette
Can bold colors and textures in the kitchen be fun and add a lot of character? but it can also make the kitchen feel less like an extension of a space and more like its own design concept. When designing your kitchen, consider the color scheme you have throughout the room. Does the wooden furniture in your kitchen match the tones of the furniture in your living room? Does the color of your kitchen represent a specific design element of your dining room? Finding ways to subtly transfer similar neutral tones and shades between the multiple spaces will help unify the rooms.
Build definitive areas
It may seem counterintuitive when trying to blend an open-concept space together, but you should still create definitive areas that clearly delineate where the kitchen, dining and living room end and the new room begins. Defining the space allows rooms to appear cohesive while clearly serving a particular purpose. One of the simplest ways to define the various areas of the space is to use floor mats to counteract the lack of natural division. There are many ways to integrate them into the floor plan, from having a rug in the middle of the living room furniture and under the dining room table to runners along the kitchen floors.
Add architectural details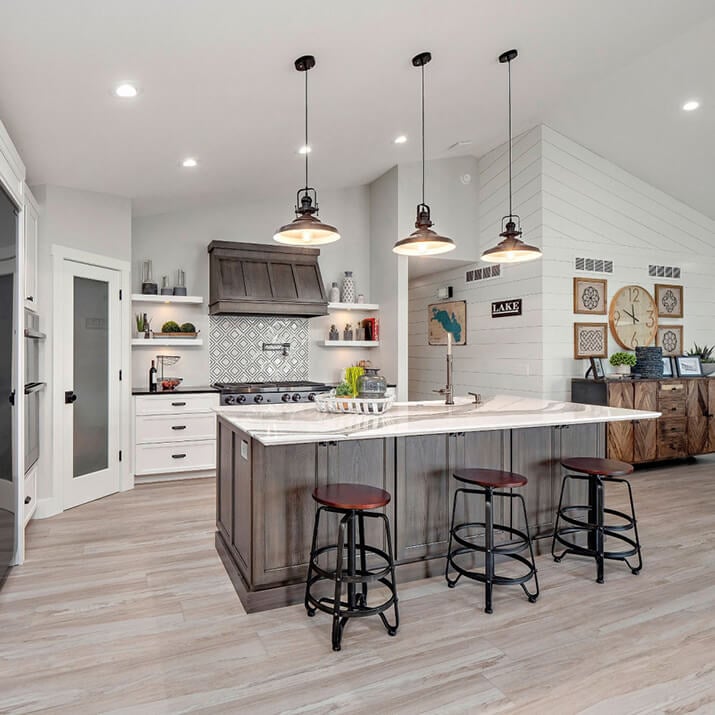 When designing your own kitchen, it's easy to forget about the wall. But the architectural details on the walls are something not to be overlooked! Using lines in your kitchen design can help you draw attention to the room, seeing it as a perfectly unified space. Consider installing moldings, trims, or panels along the walls between the two rooms, which will help the transition from one room to another. You can also use these architectural details to differentiate adjacent rooms to add character and charm.
Maintain a clean and tidy space
If you're looking to create a cohesive feel from room to room, the last thing you want is for something to break up a seamless look. Whether you have clutter, such as appliances like a toaster, blender and food processor or pots and pans, on top of kitchen counters or objects that pile up on the kitchen stool, you should find ways to hide objects in sight from view. excess to ensure your eyes can easily travel around the open plan of the concept without wavering.
Frequent questions
What is an open kitchen?
An open kitchen refers to a kitchen that has no walls separating it from the rest of the house. Instead, the kitchen floor plan extends to other rooms, including the dining room, living room, family room, or other rooms on the main floor. As a result, you are left with a large room with areas defined for each purpose.
How to light up an open space kitchen?
Since an open floor plan is a large space, you need to find a way to effectively illuminate the kitchen so that it creates a transition from the kitchen to the dining room and so on. Natural light from large windows is the most effective way to create a harmonious transition, but installing adequate lighting above the kitchen island and recessed ceiling lighting is just as effective.
Are there any drawbacks to an open kitchen?
While there are many benefits to designing an open-plan kitchen that blends seamlessly with the other rooms in your home, the open-plan design may not be for everyone. If you tend to have clutter or clutter in your kitchen, it might be best to have a kitchen closed off from the rest of the living area. An open-plan kitchen can make many dinners or family gatherings less intimate and increase the distance between your guests. You also need to consider that it may cost more money to effectively heat or cool a large room than several smaller rooms.
How to hide clutter in an open kitchen?
If you're bent on designing an open-plan kitchen but know you have a lot of kitchen appliances or clutter that can make the room less tidy, it's a good idea to incorporate ways to hide the clutter. Depending on your kitchen design, you can add a cupboard where you can easily store your kitchen appliances while they're not in use. Otherwise, you can find creative ways to store items you typically store on the counter on open kitchen shelves.
The post Tips for Joining an Open Kitchen with the Rest of the Home first appeared on the Kitchen Cabinet Kings blog.